Multi-Channel Synchronized FHD & 4K/UHDVideo Recording & Multi-Source Streaming Video Capture Packages
Futurevideo developed the concept of "project-base" workflow, which, for many types of multi-camera projects, is a higher-level, easier to use, and more efficient means to manage a project's assets and its structure with our Project Media Management (PMM) Software. It is much more efficient than is possible using traditional production "file-based" workflow methods. "Project-based" workflow provides many productivity benefits to users in business, industry, academia, and government
V-Station's Project Media Management (PMM) software and associated plug-ins (shown below) provide the tools that support project-based workflow from acquisition to delivery. Media and metadata are managed with a SQL database engine. All video and audio tracks are recorded synchronously with a time-stamp to ensure they are automatically synchronized and organized while recording live and performing on-the-fly editing with AutoProducer® plug-in. Whether playing back with Multi-View®, PostTools, or when transferring the video project to a NLE system such as Apple's Final Cut Pro, Adobe's Premiere CC, or Magix's Vegas Pro, V-Station keeps the projects managed.
Systems Integrators and AV contractors can configure a system using the plug-in modules and create "Application Profiles" to define labels to match the client's application and to create a custom system with our V-Station HD Video Capture packages. Choose a compatible PC desktop or rackmount system meeting our requirements for the Studio series or configure a "grab & go" system with V-Station HD Producer Capture Package with a compatible PC-based laptop.
V-Station HD Studio and Producer Capture Packages and software enhancement plug-ins enable Systems Integrators and AV Contractors to custom-configure multi-Camera solutions using a compatible Windows-based PC.
Monitor All Channels (up to 8) Live
View all video angles together on one screen and control the system with a touch-screen monitor—or with a standard PC monitor using a keyboard and mouse.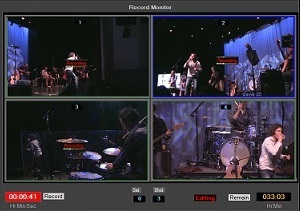 AutoProducer® Video Switcher, Line-Cuts Editor, and Live Streamer plug-in
Switch live between camera angles, send the program output to a HDMI monitor, and live stream to YouTube, Facebook, or a CDN such as Wowza— all while simultaneously creating the EDL that will be used for post-production editing. In addition, a Line-cut video recording is also created at the same time with your 'takes' which provide an additional program out recording.
Automatically Organizes Each Project
As part of its revolutionary design, V-Station HD Project Management (PMM) software organizes and manages your recordings into "projects" using a SQL database system—making it dramatically easier to find the desired content for viewing, editing or transferring to other systems.
Read More
Instead of relegating content management functions to the post-production phase—where every clip has to be sorted out—V-Station HD puts management right at the beginning of the shoot. Plus, as footage is shot, your project's database is automatically updated with each new scene, shot, and take of the production. You can easily switch between your various projects—without losing continuity. Then return back to the previous project to add more footage, if necessary. This makes it perfect for use in a variety of applications that require many sessions or episodes be recorded and managed. V-Station HD handles all the organizational details for you.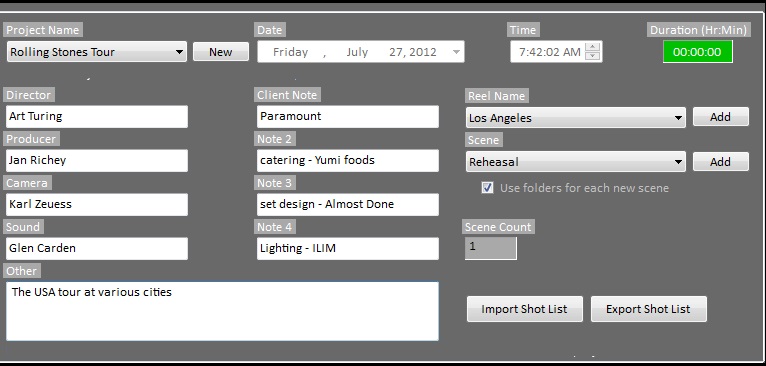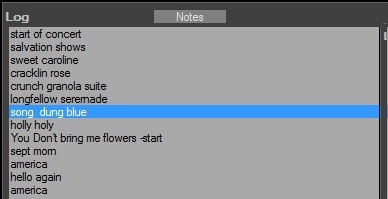 Log Events—Live or During Play Back
A log of event markers with descriptions can be entered for any frame of each clip during recording and review during play back. The metadata is kept with the project and each recorded clip for later reference event when transferred to your NLE.
Read More
This feature is included with all video capture packages.
Simultaneous Playback & Review Of Your Footage
Even while recording, you can play back previous shots using the built-in media player. Pull up the play list by project and review footage. Log footage for each frame. This is ideal for rehearsals.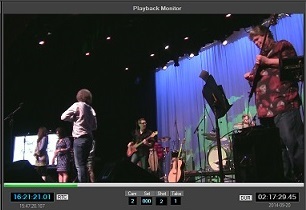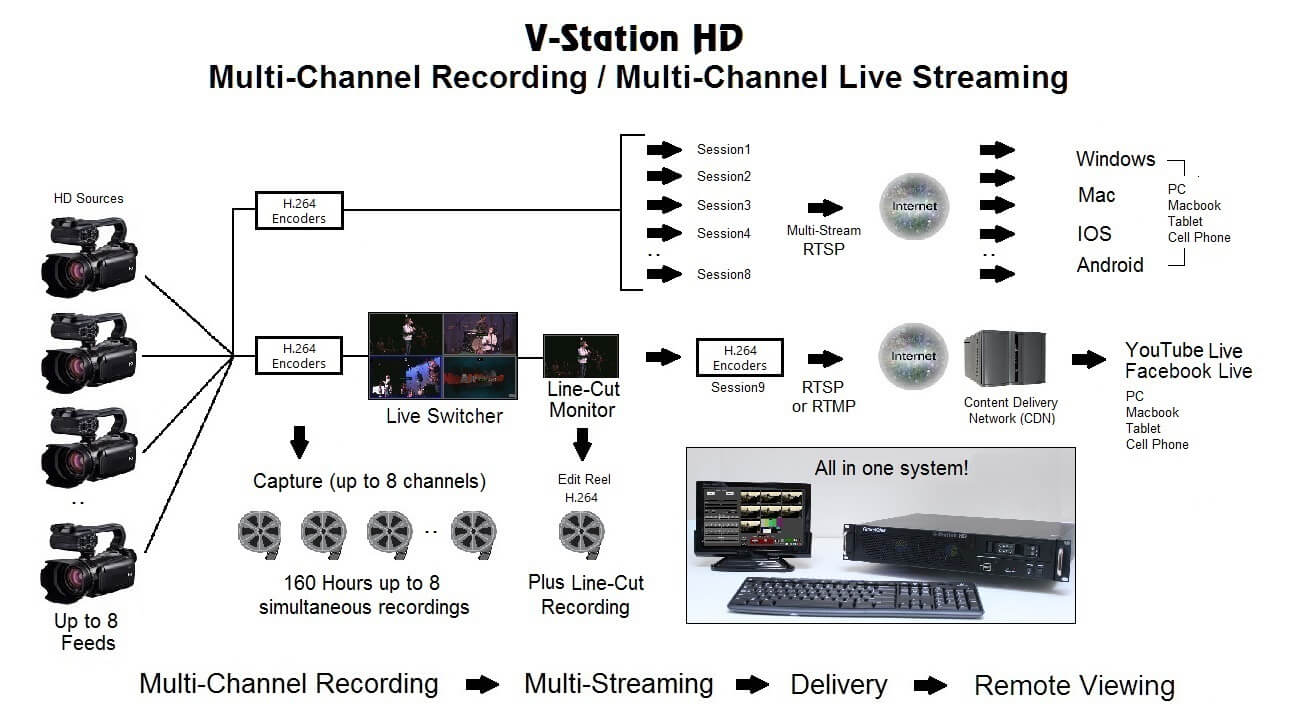 Multi-Channel Live Streaming Plug-in
V-Station HD's simultaneous "multi-streaming" plug-in allows each of the video camera feeds to be streamed simultaneously to any local or internet site.
Read More
V-Station HD Studio capture packages with this plug-in can provide up to 8 multiple live streams and can be set for various resolutions, frame rates, and video bit rates.
Transition Effects on Program Output
Perform transitions while switching between different camera angles - do dissolves, fades, slides, wipes (requires AutoProducer Plug-in).
Read More
When AutoProducer is on, your program out feed can have transitions between camera angles or graphics from the picture store.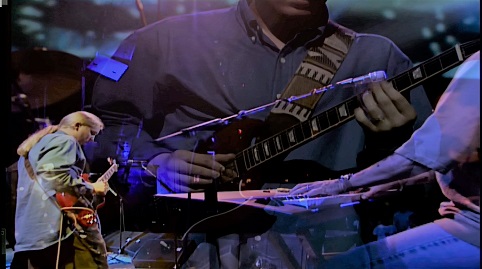 Picture Store
The Picture Store is a feature included with the AutoProducer plug-in that let's you add in graphics (titles, credits, images, color bars) to your production. Simply switch between any video angle to an image in the picture store, or between images. .
Read More
When AutoProducer is on, your Program Out feed can be switched to any of 8 user supplied graphics. These can be titles, pictures, color bars, and backgrounds. (
Multi-View® Synchronized Playback & Editor Plug-in
V-Station HD Capture Package with this plug-in provides instant synchronized Multi-View playback of up to 8 video clips, and a variety of editing features—without having to re-encode, thanks to its proprietary TruSync® feature.
Read More
As each incoming video source is recorded onto its separate "track", with a common clock, video clips can be synchronized by time from any video project created on a V-Station HD system. This enables you to view the scene or subject in various angles, or repeated re-takes of the event to analyze and note important information frame-by-frame.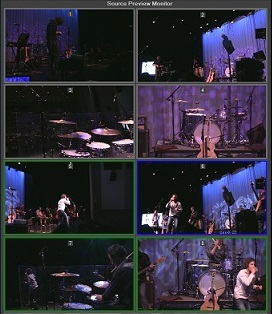 Seamless XML Project Transfer To Editing systems
Included with the AutoProducer Plug-in, whether you're using Adobe Premiere Pro CS/CC, Apple Final Cut Pro, or Sony Vegas Pro, we've made the editing job faster & easier than ever before by using XML project transfer from the V-Station HD to your NLE software.
Read More
With a click of a button, you prepare the project for transfer and then import into your editing software the bins, scenes, markers, sequences all automatically prepared for you—ready to start polishing your project. This saves you hours of time in organizing, synchronizing clips, and creating sequences. In fact, if you create your line-cuts as you shoot on the V-Station HD, you'll just have to use your editing software for titles, transitions and effects.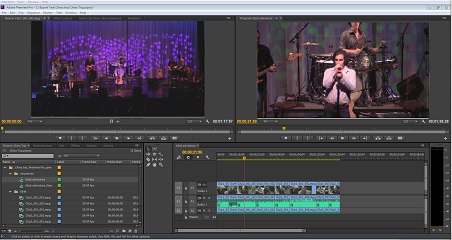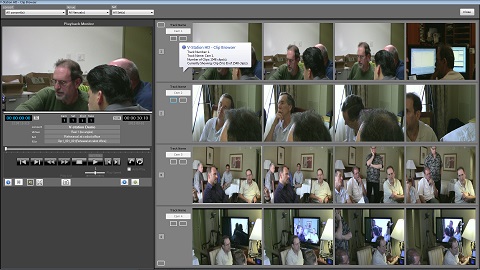 Clip Library Browser Plug-in
V-Station Clip Library browser provides a quick and easy way to find the recordings previously recorded with a V-Station HD system using the intuitive built-in Clip Browser.
Read More
Filter recordings by project, reel, and scene to find only what you need. Multiple clips may be selected from the Clip Browser panel across different projects to allow for individual or simultaneous synchronized playback/editing when the Multi-View® module is in use.
Fast Offline Multi-Camera Editor
The V-Station HD PostTools is a Windows compatible application software incorporates the revolutionary AutoProducer® feature which makes it easy and quick to produce a multi camera video by making line cuts as you play back the footage from prior V-Station HD projects.
Read More
This amazing feature makes multi-cam rough-cut editing possible even without going to an NLE for post-production. With this module installed, you "re-create" the live shoot with up to 8 camera angles and do the takes just as you would during the live shoot. Creation of a rough-cut edited reel allows you to visualize the program—before it's complete—in case more footage needs to be shot or camera angles need to be changed. When you're finished, with a click of a button, the edited output reel can be uploaded to YouTube, a private FTP server (using our built-in share function) for streaming or distribution, or via LAN, with all the raw content and timeline sequences for an NLE system, ready for a finished edit.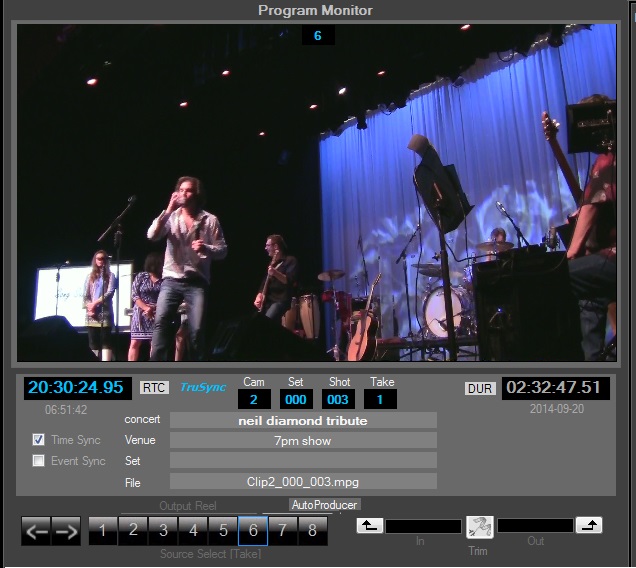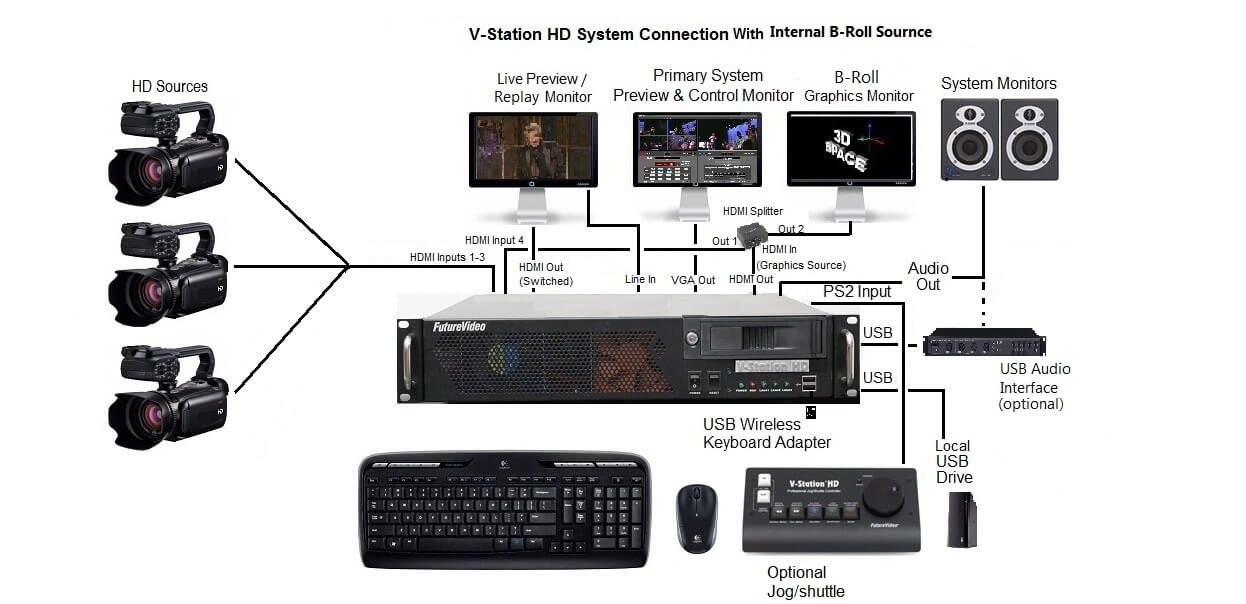 Versatile System Configurations
V-Station HD Video Capture Packages are modular and can be configured in a variety of ways—depending on your workflow needs and personal style—to bring optimum efficiency to your projects.
Read More
Video sources can be from ISO HD cameras having HD-SDI or DSLRs and low cost consumer HD cameras having HDMI output, depending on the system ordered. One configuration can make it ideal for community television with built-in B-roll and titling to create multi-camera productions. Another configuration can make it ideal for church productions and meeting/lecture presentation productions with 3 cameras and built-in PowerPoint output for an external projector. Because the system was designed to provide you with optimal flexibility, multi-tasking is easy with V-Station HD. For example, you can record on one screen, playback and edit on another. V-Station HD supports program output to route live or replays—plus a B-Roll of videos/titles—to a 3rd monitor.
Remote Operation Over LAN or Internet
The V-Station HD Systems incorporate a feature which makes it possible to control the system either over a LAN or the Internet using a Remote Desktop Connection
Read More
This amazing feature makes it possible to use a remote PC, Laptop, or tablet to start and stop recordings, playback video, and upload the projects to an FTP site - all from a remote location when connected to a LAN or WAN. The same screen that is shown on the V-Station HD will appear on the remote location..