Seamless V-Station®HD XML File Transfer To Premiere Pro, Final Cut Pro, or Vegas Pro Editing Systems
December 9, 2013
Case Study: SouthWest Dealer Services Achieves Dramatic Video Training Productivity Boost With V-Station®HD
August 27, 2017

APPLICATION
Multi-Cam recording and Facebook live streaming of presentation.
PRINCIPAL SYSTEM COMPONENTS
FutureVideo V-Station HD Pro4 Plus Multi-Channel Production DVR System (HDMI), Teradek VidiU broadcast streamer
USER EXPERIENCE
USC's Viterbi School of Engineering planned to shoot their largest on-campus event—"Discover USC!"—with multiple camera angles and broadcast the production to Facebook Live.
The Workflow Bottleneck
USC needed a way to enable those not in the auditorium to instant message questions to Undergraduate Admissions Director Paul Ledesma through Facebook. With support from Louise Yates, Sr. Associate Dean for Admissions and Student Affairs at USC Viterbi, Producer Daniel Druhora took up the challenge. Druhora was confident FutureVideo's V-Station HD Pro4 Plus Multi-Channel DVR System, combined with a Teradek VidiU broadcast streaming device, would accomplish the task.
The V-Station HD Solution
"V-Station HD made it possible to broadcast 4-channels simultaneously, including channels dedicated to sound and the presenter's deck," said Druhora. "Bringing all those elements together with the power to broadcast HD wirelessly was the magic formula."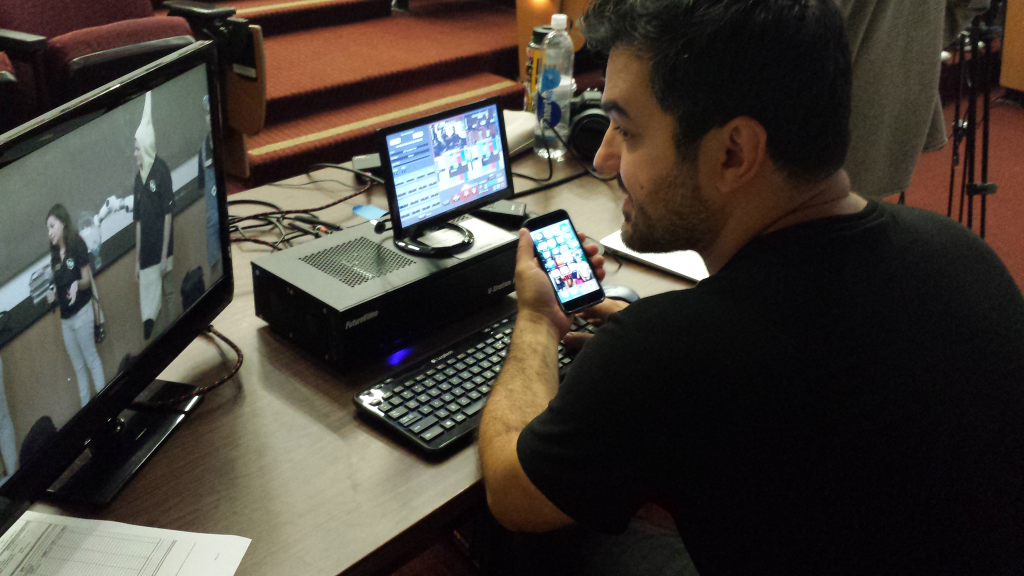 Daniel Druhora operating the V-Station HD Pro4 Plus while monitoring the live stream on Facebook Live with his smart phone
With students Victoria Stein and Tiana Lowe on the Blackmagic pocket cinema, the Canon 7D, and the Canon Vixia; and Simone Attenni as audio engineer, Druhora directed the 90-minute production from the V-Station HD multi-view control panel.
The V-Station HD's built-in multi-cam switcher provided Druhora with the artistic freedom to direct the event by switching between camera angles during the live presentation. In addition, V-Station HD created a "line-cut" recording that later was uploaded to a ftp site immediately after wrapping. All the camera angles were recorded synchronously—giving Druhora the option of re-creating the shoot and re-editing the camera angles in his NLE software.
The Bottom Line
"Getting personalized attention from Team FutureVideo made all the difference," said Druhora.
NOTE
V-Station HD Pro series models now feature built-in live line-cut streaming; V-Station HD Studio series models now feature built-in live multiple streaming and live line-cut streaming. Costly external streaming devices are unnecessary.
Learn more: VS-HD Multi-Streaming Tech Brief.