Immediate Project Visualization with V-Station®HD Multi-Cam DVR Systems
October 8, 2013
Banish HDMI Cable Tyranny & Go Wireless With Your V-Station®HD System
December 8, 2013

APPLICATION
Multi-camera recording of City Council proceedings and community events for upload to the city's website.
PRINCIPAL SYSTEM COMPONENTS
FutureVideo V-Station HD Studio Multi-Channel DVR System (HDMI), FutureVideo V-Station HD Field Multi-Channel DVR System (HDMI).
USER EXPERIENCE
The City of Chino Hills is a young, progressive community located in south-eastern Orange County, California.
The Workflow Bottleneck
Community Relations Manager Valerie McClung and Video Production Manager Robert Wells, needed an efficient means to do multi-camera recording of City Council sessions, interviews, and community events. Their single-cam capability was mostly limited to recording City Council sessions. They envisioned one system being hard-wired into the city's new Community Events Center building. The other would be deployed in City Council chambers as needed and stored when not.
The V-Station HD Solution
McClung and Wells discovered V-Station HD while attending a Technology Showcase event put on by one of FutureVideo's local pro video resellers. FutureVideo had been asked to conduct a presentation about multi-cam video production at the event and had a demo V-Station HD Studio System on hand to provide immersion into V-Station HD's technology. It quickly became apparent to them that both V-Station HD systems' capacity to quickly upload a production to the city's website was a very important plus. After putting an evaluation system through its paces, the City of Chino Hills authorized the purchases.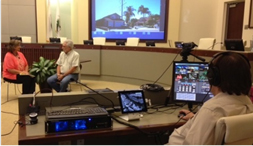 Robert Wells operating V-Station HD Studio during an interview in the City Council chamber.
The Bottom Line
V-Station HD Studio & Field Systems provided the range of event recording capabilities the city needed configured around V-Station HD technology.